Our Services
Numerical Simulation using Computation Fluid Dynamics (CFD) of heat transfer and temperature distribution in fluid flows, technical devices and its environment.
Thermal analysis of steady and transient temperature distribution in fluids and solids
Calculation of needed cooling and heating power
Thermal simulation:

natural and forced convection
heat conduction
heat radiation

Coupled heat exchange fluid-solid (Conjugate Heat Transfer - CHT)
Particle laden flows (Lagrange Partikel Tracking)
Mixing processes of different fluids
Filling processes
Multi phase flows
Inductive heating
Compressible flows
Customized Software  InsightCAE for thermal inHouse simulations
Over 10 years experience using Opensource Software (OpenFOAM, Elmer, Code Aster, etc.)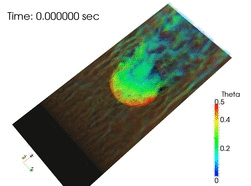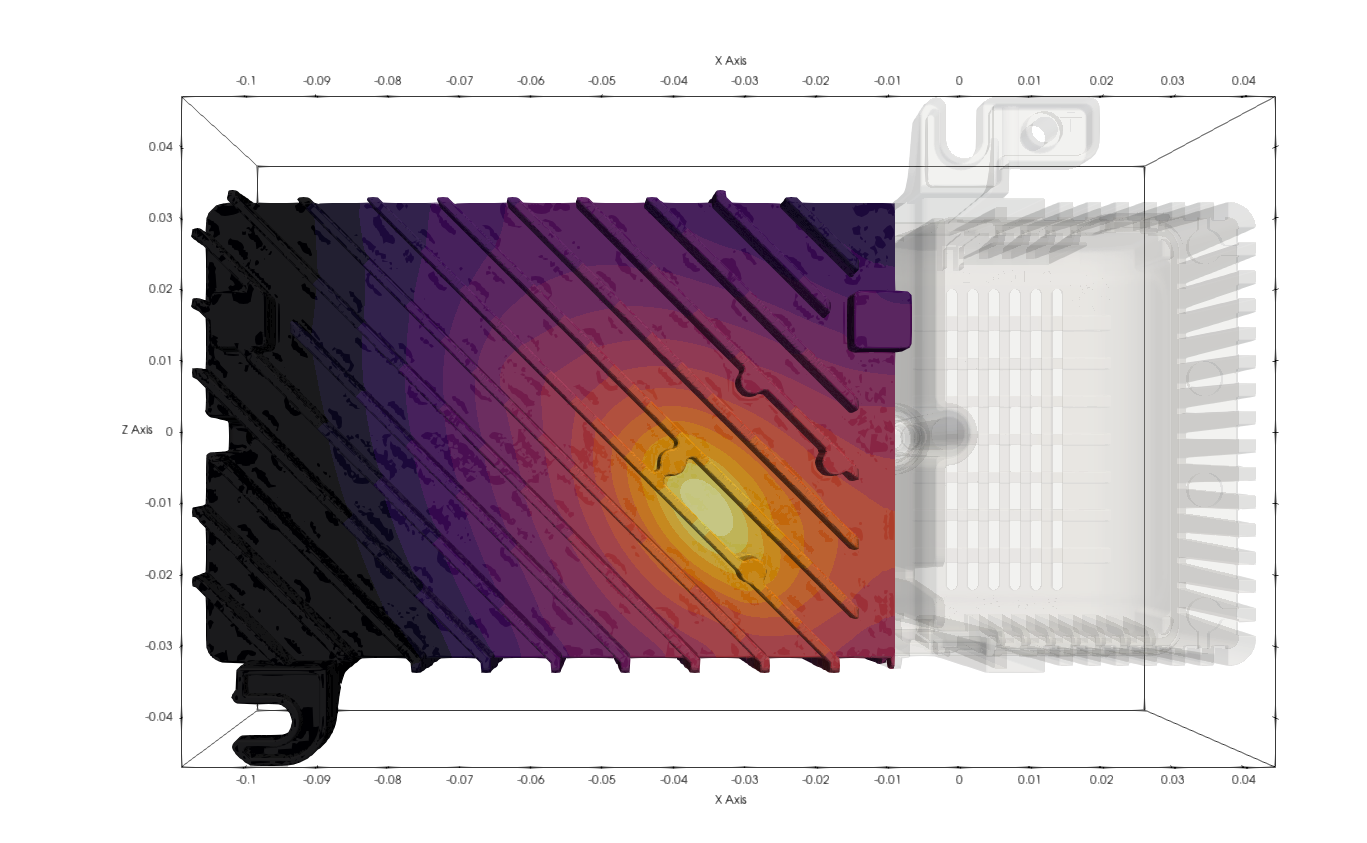 Solar heating of car cabin
Reduction of energy consumption for climatization process using efficient and regulated ventilation. Using coupled CFD simulations (Heat radiation, convection, conduction)  the temperature distribution on the cabin surfaces are calculated. Our optimized software (InsightCAE) for simulation of transient heat radiation under consideration of the heat capacity for different materials to ensure fast and efficient simulation for our clients.
Heat transfer enhancement
Analysis of vortex structures and heat transfer in different operating points  is an important step in the design process and optimization. The needed simulation software InsightCAE using OpenFOAM in combination with DAKOTA enables easy handling and advanced parametric analyses for  design exploration. Investigatigations in inflow and outflow conditions, surface structure or fluid control leads to minimized pressure losses and enhanced heat transfer. Questions of local thermal extrema could be answered from 3D simulations.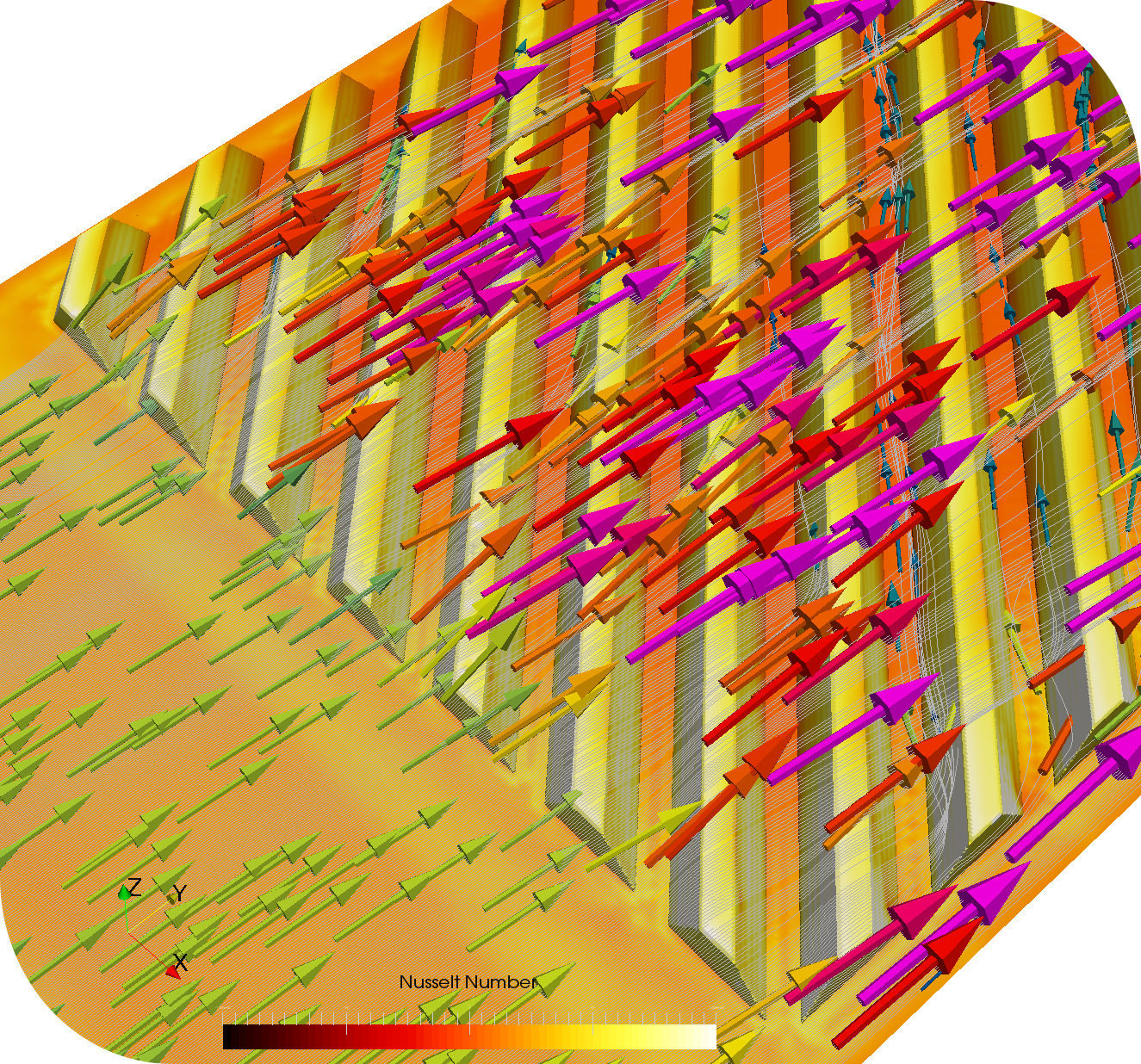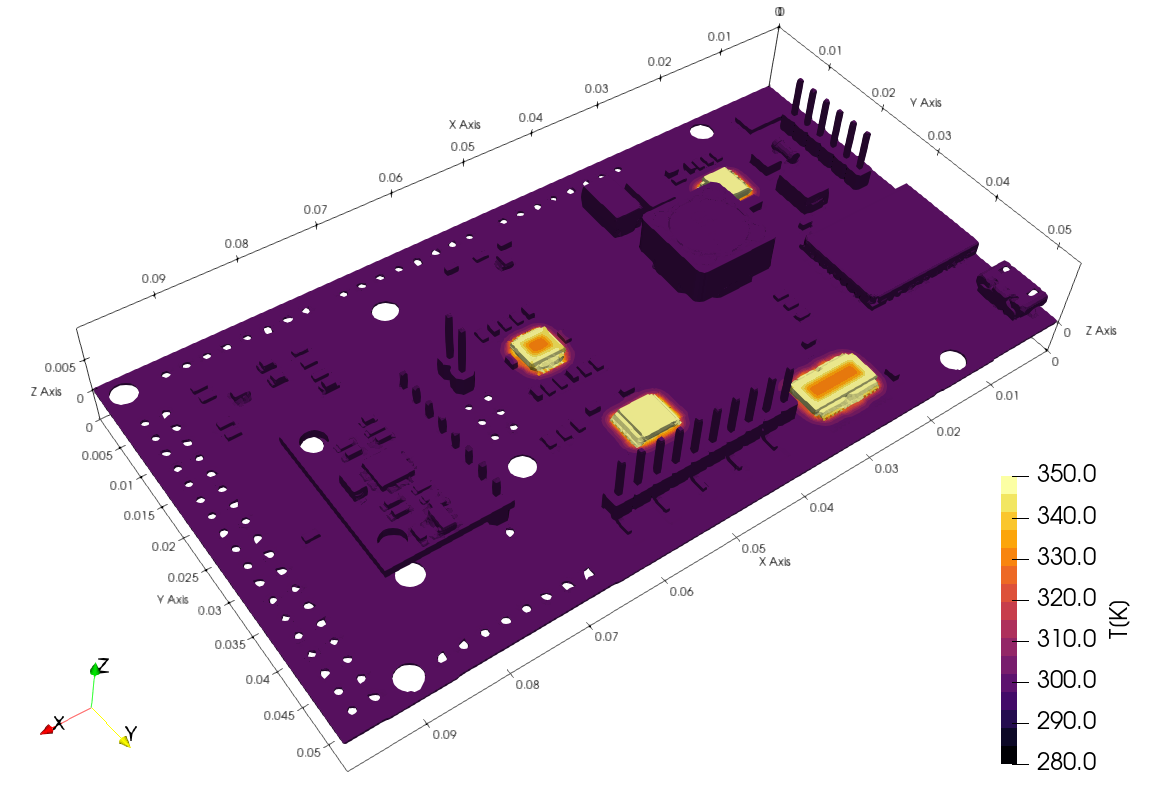 Electronic cooling
Thermal 3D-simulations of heat radiation and conduction for cooling of different electronic parts ensures functionality already in the design process and prevents later damage. Quantification of heat flux using leads  to the evaluation of different cooling methods p. ex. ventilation, heat pipes or cooling ribs with different materials. For more information take a look at our blog
Gas dispersial / Incident
Leakage of heavy or light gas leads to a gas dispersion in the near and far field. Using 3D Simulations steady and transient leakage processes are visualized and critical concentrations are determined. Influence of wind direction and speed as well as the local environment will be considered with our transient inflow conditions for atmosphäric boundary layers.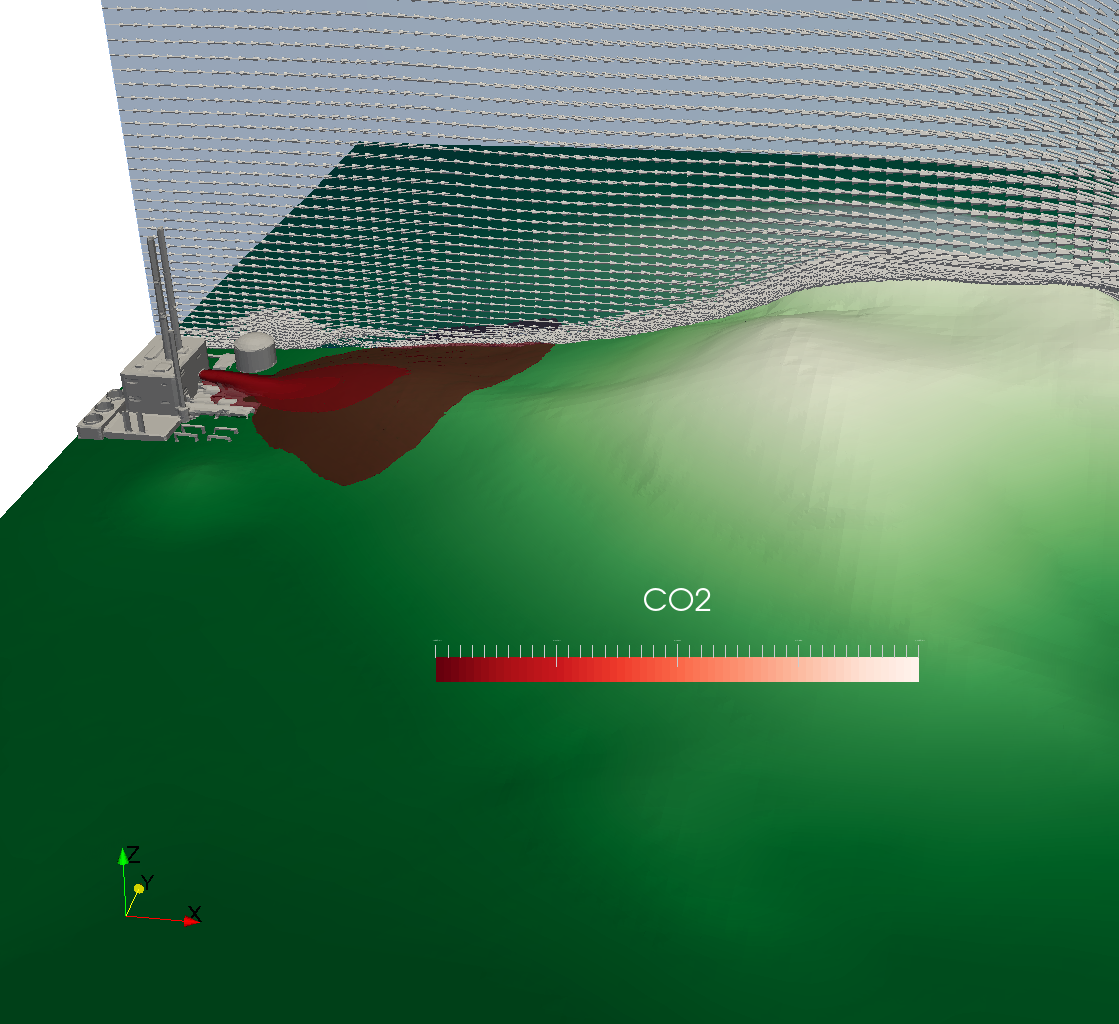 3D Heat expansion
Steady and transient 3D simulations  of heat distributions in complex technical devices of different material are performed. Cooling and heating for maximum or minimum heat flow are calculated in the early design stage or the analyse problematic issues. Using parametric geometry build up and automatic simulations processes a  large number of designs can be analyzed within a short time range.
Coupled simulations CHT fluid-solid
Coupled simulations of heat transfer between solids and fluids (CHT- Conjugate Heat Transfer) are conducted for designing complex cooling strategies. The impact of ventilation systems or natural convection process regarding the temperature distribution inside the material or for heat exchange between different fluids are quantified.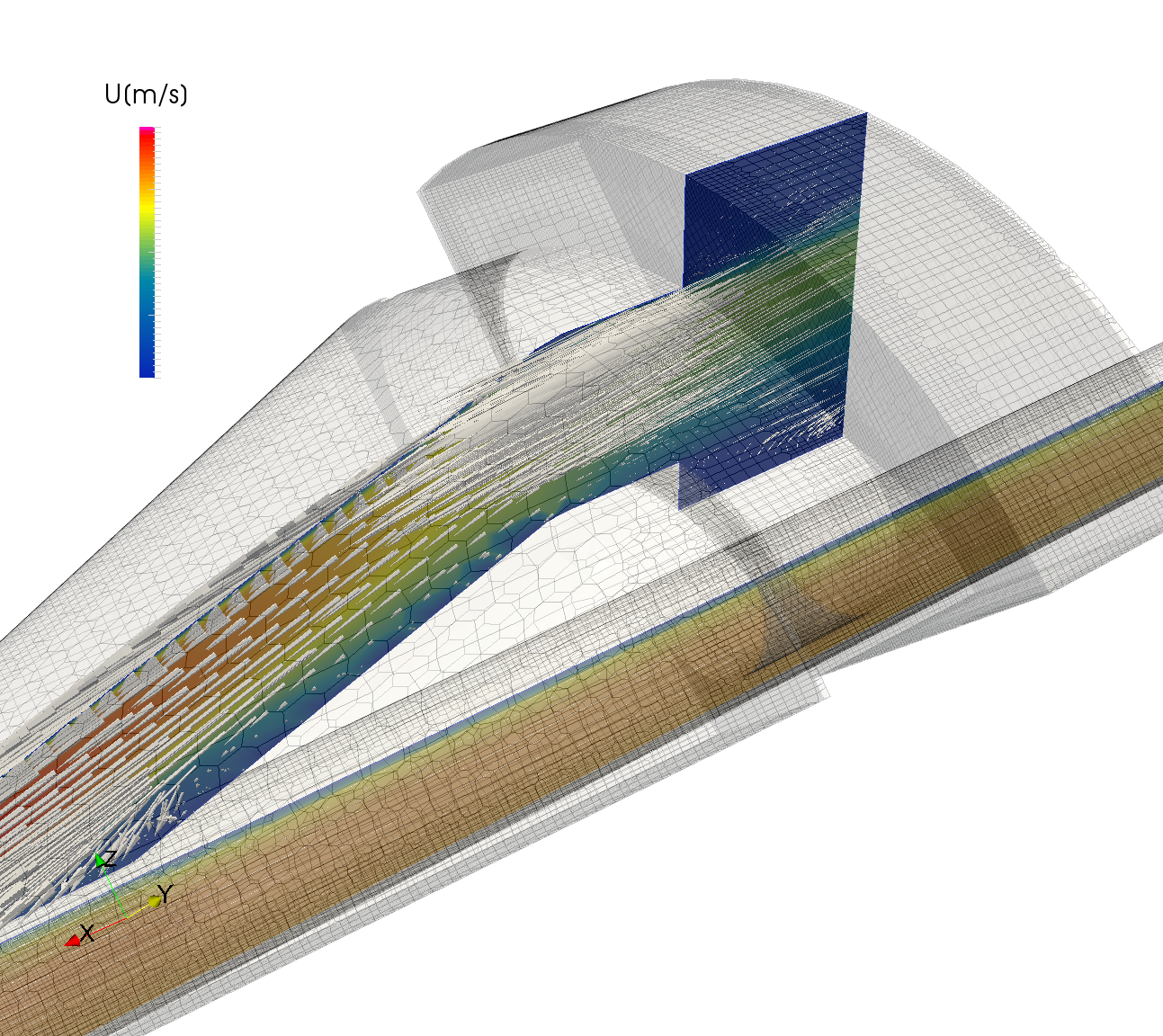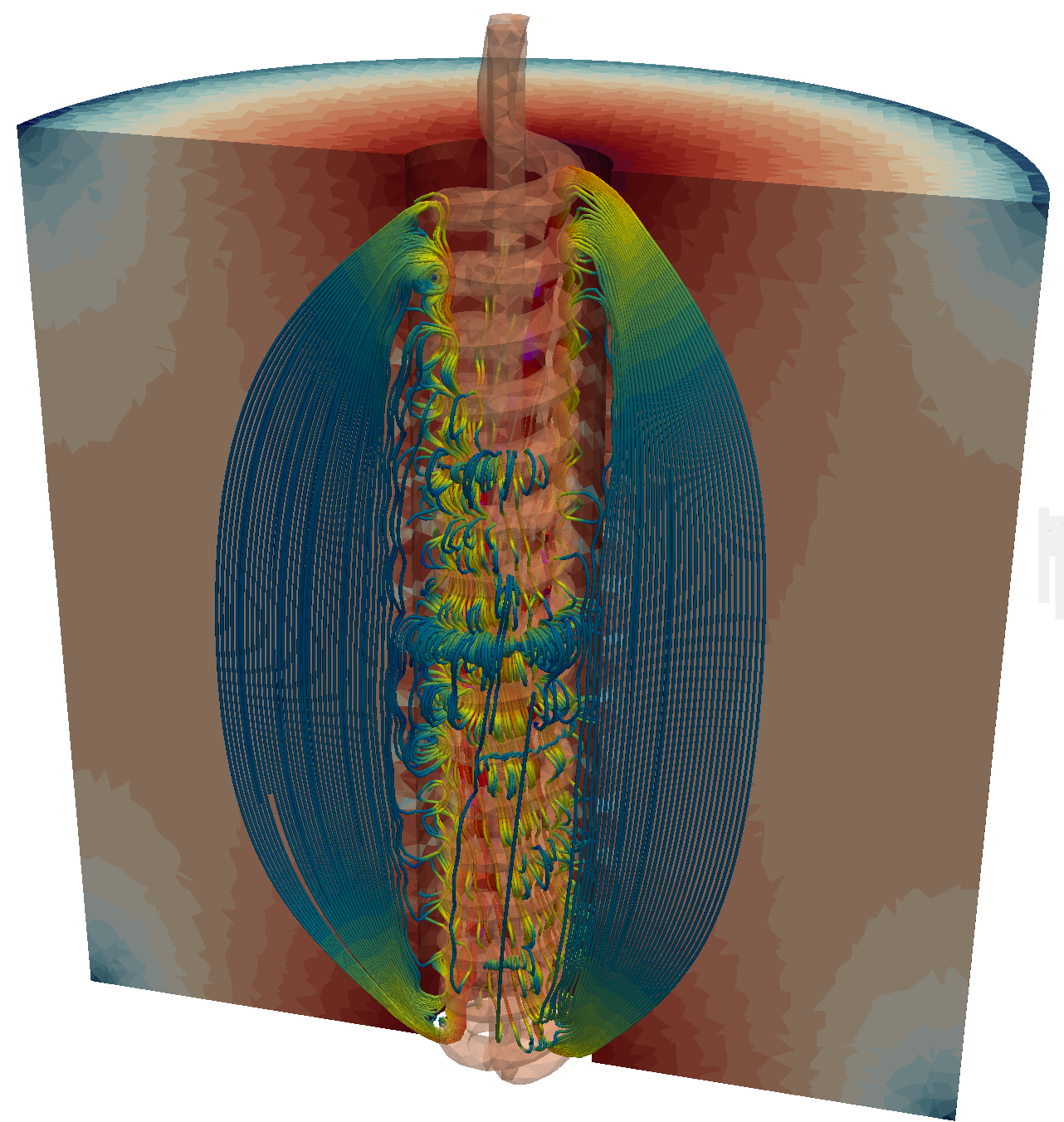 Inductive heating
Simulation of inductive processes for heating of technical devices of different material. Evaluation of magnetic losses and local heat fluxes with consideration of outer boundaries as p.ex. heat conduction oder convection. Steady and transient simulations using coupled software of OpenFOAM and Elmer in our productive software environment InsightCAE
Simulation of solar collectors
Simulation of heat exchange of solar collectors. Automated design studies with different solar radiation intensities, environmental temperatures and wind speeds. Calculation of pressure loss and outflow temperatures for different fluids.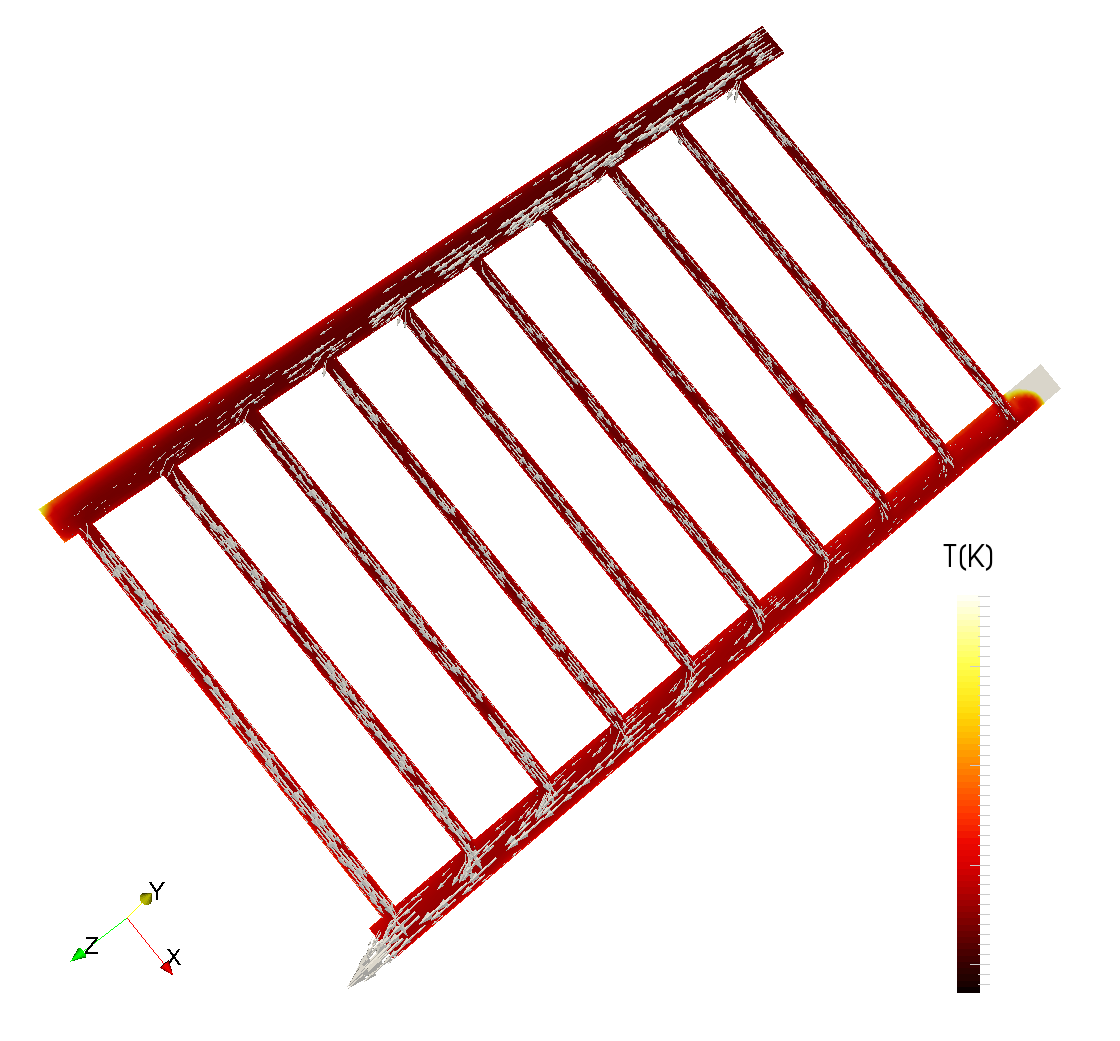 HVAC
Simulation of temperature distribution and climatization processes in office rooms or industrial halls leads to an optimal comfort with low power consumption. Simulations are the basis to understand and design the ventilation strategy with a maximum efficiency to save energy. Influence of solar radiation, open windows or regulated ventilation is included.
Environmental flows
Passing of cooling fluid into the environmental water under summer and winter conditions. Thermal simulation of heating process including the ground around the inlet source. Design of the inflow geometry and determination of the maximum volume flows for optimal mixing.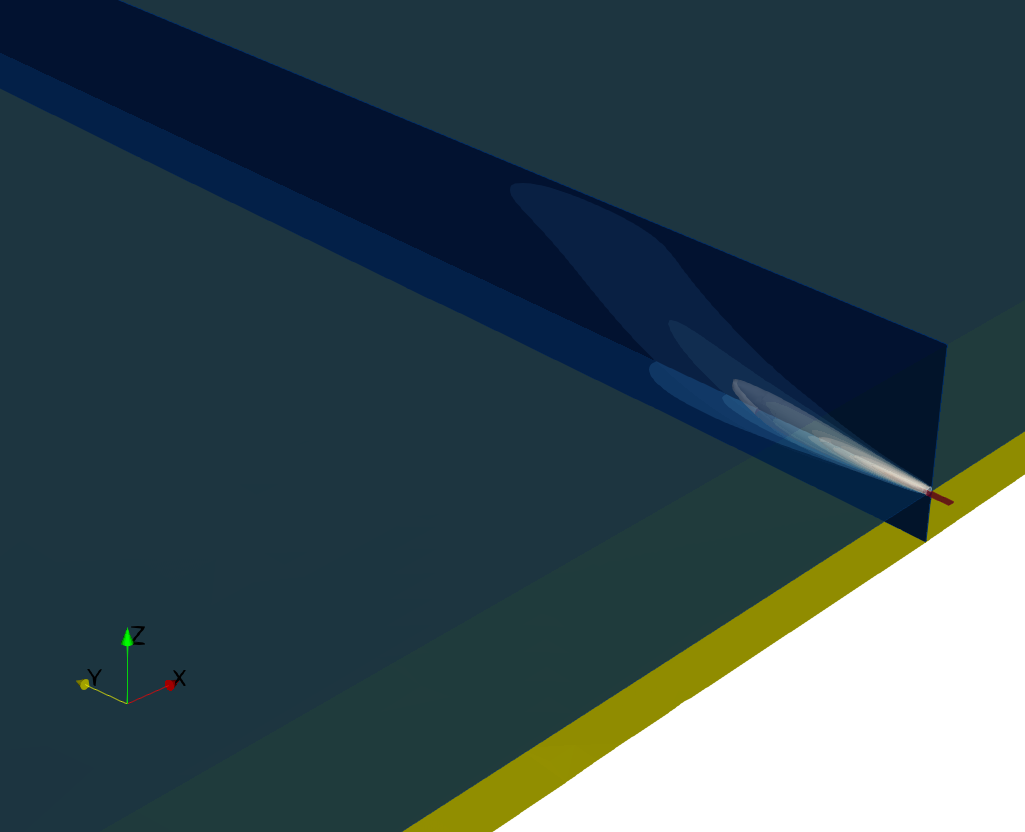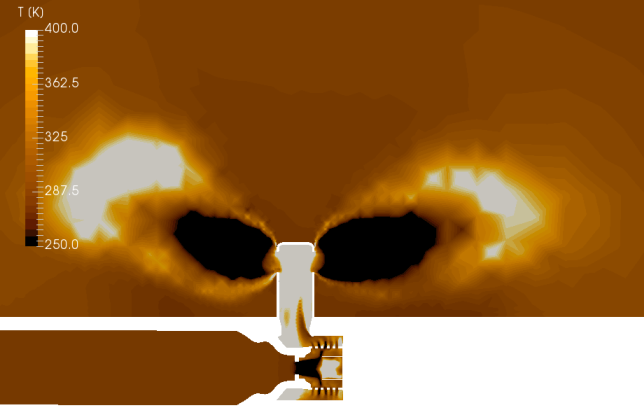 Compressible flows
Compressible flows with and without shock waves are present in technical devices such a gas generator or turbines. Influence von compression or expansion effects, usage of special gases and their equations of state (Peng-Robinson, NIST ..) as well as external heating or cooling are simulated using CFD for steady and transient flows.
Software for thermal simulation
Preparation and case setup for thermal simulation with open source software such as OpenFoam, Elmer, etc. Our software InsightCAE enables fast and automated pre- and post-processing for a robust simulation of heat propagation. Installation of InsightCAE software including OpenFOAM on Windows and Linux computers, implementation of software add-ons, provision of computing resources (HPC) and support ensure fast and reliable simulation results.