InsightCAE
Opensource software for efficient CFD/FEM simulations

Client customized CFD/FEM workflow's
No license costs, benefit for many users and parallel processing
For Windows / Linux systems
HPC / Cloud support
Successful application of open source software:
InsightCAE - Open Source Analysis Software
" >OpenFOAM


OpenFOAM the most comprehensive free
computational fluid dynamics
 program that is currently available.
It has all the features that are necessary for a successful application of computational fluid dynamics. On top of that the source code is completely open and it is entirely free of charge. In conjunction with the good parallel scalability, this opens up great potential for increasing productivity and design safety with simultaneous cost reduction.
The focus of OpenFOAM is on computational fluid dynamics. But through the open and modular architecture, the software is also ideal for solving other tasks, such as calculation of electric and magnetic fields. In particular, highly customized solutions can be developed excellently by the limitless customization possibilities of an open source software.

" >Code_Aster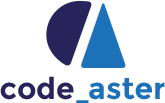 Code_Aster is the
structural analysis
program of Électricité de France (EDF). Since 2001, it is available under GPL license for free software.
Compared with other free FEM programs, Code_Aster stands out with its pretty complete functionality. In addition to the numerical solver which works both in serial and parallelized, there is the pre- and postprocessing Workbench "Salome" for editing, meshing and visualizing the models and results.
Since Code_Aster is developed and used for the calculation of nuclear reactors, the code is subject to a comprehensive quality control, which is another unique property.
The special software architecture of Code_Aster enables extensive automation of all calculation processes

InsightCAE
Individual open source projects often meet only subtasks in analysis process. To automate repetitive computational tasks, a combination of several open source engineering software tools is often required. In order to use open source software productive and efficient for everyday tasks, the analysis automation framework Insight CAE is provided by silentdynamics.
Insight CAE serves as a framework for the implementation of analysis procedures. The objective is to provide interfaces to the tools and simulation programs that are needed for a specific computing task.
Common practice in numerical simulations is a manual workflow

InsightCAE provides tools to automate simulation workflows:

A best practice can be stored for reoccurring tasks
The user only needs to provide a minimum number of parameters
A graphical user interface (GUI) is provided to edit parameters and see the workflow documentation
Please see our presentation for more details:
Please follow this link to view the documentation.
InsightCAE comprises multiple components. Additional informations for a number of components can be found here:
InsightCAD
ISCAD is a script-based CAD program. Features include:
based on OpenCASCADE, import of IGES, STEP, BREP
fully parametric parts, constraint-based sketches (through FreeCAD), assemblies, part library, drawing export (DXF)
entity selection by filtering commands
embedded meshing through gmsh and snappyHexMesh
See the User Guide for more informations.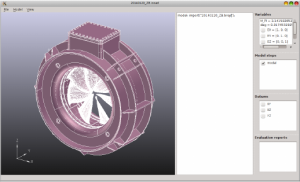 isofCaseBuilder
Case builder is an interactive tool to build OpenFOAM cases from feature elements.
See the Tutorial for more informations.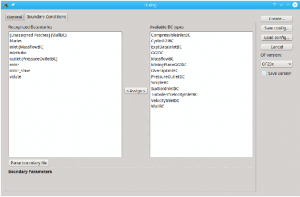 Installation
The source code is hosted at Github: https://github.com/hkroeger/insightcae. (the former Sourceforge repository is no longer maintained)
If you encounter problems, bugs or for development wishes, please create tickets here: https://github.com/hkroeger/insightcae/issues
We also have a forum located at: https://groups.google.com/forum/#!forum/insightcae
Windows 10 Enterprise/64bit or Windows Server
Our software is currently a pure Linux software (We are working on a real Windows version). However, it can also be run under Windows 10 Enterprise (64 bit only) or Windows Server using the "Linux Subsystem for Windows". Virtualization is not used. The processes share the memory with the Windows processes and the files are stored in the Windows file system. Various X servers are available for graphical output under Windows; Xming is used below.
To do this, the Linux subsystem must first be activated. This is done by the following steps:
Start Windows PowerShell as an administrator (right-click on Startmenü >"PowerShell (Admin)") and execute:

> Enable-WindowsOptionalFeature -Online -FeatureName Microsoft-Windows-Subsystem-Linux

Restart the computer when prompted.

Download the Linux image:

> Invoke-WebRequest -Uri https://aka.ms/wsl-ubuntu-1604 -OutFile ~/Ubuntu.zip -UseBasicParsing

Unpack:

> Expand-Archive ~/Ubuntu.zip c:\Distros\Ubuntu

Configuring the Linux System:
The following calls as user "root":

> c:\Distros\Ubuntu\ubuntu.exe config --default-user root

Set the password of the user "user":

> c:\Distros\Ubuntu\ubuntu.exe
# passwd user

Install InsightCAE with OpenFOAM:

# echo deb http://downloads.silentdynamics.de/ubuntu xenial main > /etc/apt/sources.list.d/sd.list
# apt-key adv --fetch-keys http://downloads.silentdynamics.de/SD_REPOSITORIES_PUBLIC_KEY.gpg
# apt-get update
# apt-get install insightcae-base openfoamplus-insightcae

Set back to standard user:

> c:\Distros\Ubuntu\ubuntu.exe config --default-user user

Add the file c:\Distros\Ubuntu\ubuntu.exe to the start bar
Then install the Xming server for graphical output:
Download Xming-Installer
https://sourceforge.net/projects/xming/files/Xming/6.9.0.31/Xming-6-9-0-31-setup.exe
Execute Installer:
• Check: "Install quick launch icon"
• Allow network access after installation
Set the DISPLAY variable in the Bash environment

$ sudo -i
# echo "export DISPLAY=:0" >> /etc/profile.d/xming.sh
# exit
Use:
First start "Xming" X-Server
Then start Ubuntu Bash command line
Execute the application in the shell, e.g. the InsightCAE Workbench:

$ workbench
Ubuntu
The releases "xenial" (16.04 LTS) and "bionic" (18.04LTS) are supported.
Add the silentdynamics apt repository and the associated key by executing (as root):
$ sudo apt-key adv --fetch-keys http://downloads.silentdynamics.de/SD_REPOSITORIES_PUBLIC_KEY.gpg
$ sudo add-apt-repository http://downloads.silentdynamics.de/ubuntu
$ sudo apt-get update

Install the software by executing
$ sudo apt-get install insightcae-ce

The script for loading the environment variables is automatically integrated into the system configuration and should be activated at the next login. In some terminal programs, however, we have found problems with this. If the binaries or libraries are not found, the script can be executed manually:
$ source /opt/insightcae/bin/insight_setenv.sh

Start the analysis workbench by executing:
$ workbench

Notes
in 18.04, the file "/etc/ImageMagick-6/policy.xml" needs to be modified. Otherwise the charts in the reports will not be created properly.
Find the line

<policy domain="coder" rights="none" pattern="PDF" />

and change it to

<policy domain="coder" rights="read|write" pattern="PDF" />
CentOS
The release 7 is currently supported.
Add the silentdynamics yum repository by executing (as root) by pasting the command below on the command line. The third line adds the "Extra Packages for Enterprise Linux" repository, which contains a lot of extra software for Redhat based distributions:
# yum-config-manager --add-repo http://downloads.silentdynamics.de/centos/7/silentdynamics.repo
# yum-config-manager --enable silentdynamics
# yum --enablerepo=extras install -y epel-release

Install the software by executing
# yum install -y paraview5-insightcae freecad-insightcae insightcae-ce

Build From Sources
Clone the sources from the git repository at Github:
$ git clone https://github.com/hkroeger/insightcae.git insight-src

CMake is utilized for building the software out of source in a separate build directory. Create a build directory, then configure the build using e.g. ccmake and finally build using make:
$ mkdir insight && cd insight
$ ccmake ../insight-src
$ make

Some environment variables need to be set up. A script is provided therefore. It can be parsed e.g. in your ~/.bashrc script by adding to the end:
source /path/to/insight/bin/insight_setenv.sh

Our Services
We implement automated analyses according to your needs and specifications, e.g. by creating new specialized modules for InsightCAE.
This will
speed up your routine work
reduce human errors
make complicated analyses accessible to inexperienced users
Some examples of workflows which we created for our customers: